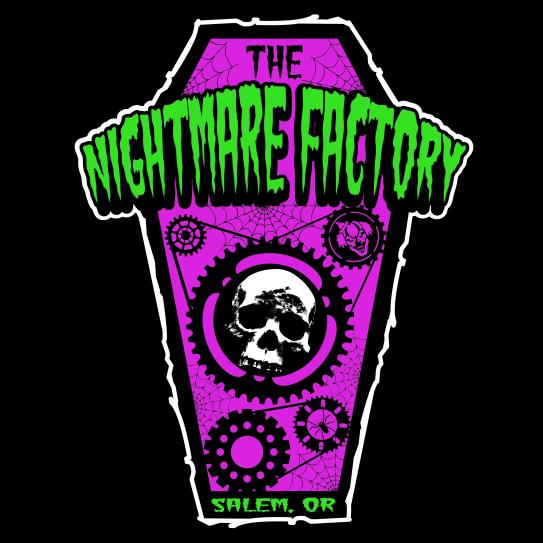 The Nightmare Factory

999 Locust Street NE, Salem Oregon

503-378-3825

503-378-3827

On the campus of the Oregon School for the Deaf

HAUNT RULES -

This event takes place on the campus of the Oregon School for the Deaf.

All bags, purses, backpacks, fanny packs, etc are subject to search prior to purchasing tickets.

No alcohol is permitted on campus. Any one found in possession of alcohol will be asked to leave.

Any one deemed under the influence of alcohol or any other controlled substance will not be permitted on campus, or access to a ticket to this event.

Unruly behavior, foul language, line jumping, etc may be reason for removal from the event.

We have a strict no touching policy at the Nightmare Factory, any guest found touching the actors or sets, Will be asked to leave.

The Nightmare Factory uses a multi camera security system for your safety and ours. You will be recorded.

No pictures allowed once inside the Nightmare Factory. TURN OFF ALL ELECTRONIC DEVICES!

Please put all electronic devices away prior to entering the Nightmare Factory.

NO Smoking, you are on a school campus!

WARNING: People with heart conditions, seizures, asthma be warned: Fog machines, strobe lights, specialty lights and high startles in use!

NOVEMBER 3RD & 4TH

TICKETS AT THE DOOR OR

BY CALLING 503-378-3825

Experience the Nightmare Factory in total darkness.

For two nights only, the lights go out and the creatures run free.

Groups of no more than three allowed in at one time.

(each group gets one small glow stick).

NO FLASHLIGHTS, NO CELL PHONES, NO CRYING!

November 3rd and 4th 7:00 -11:00

$25.00 per person. No group rates these nights.

TICKETS ON SALE AT THE DOOR, OR BY

CALLING 503-378-3827

THIS IS NOT A FULL CONTACT HAUNT.

NO MORE THAN 3 IN A GROUP... YOU MAY GET SENT IN ALONE!